10 Year Warranty Registration
This limited warranty is provided by Industrial Lighting Products, LLC (Seller) to the original purchaser. Seller warrants that the Product(s) (defined as a fixture housing(excluding finish), LED boards, and driver) when delivered in new condition and in its original packaging, will be free of defects in material and workmanship for a period of TEN (10) YEARS from the date of original purchase. Third party components, such as sensors, battery backups, surge protectors, step down transformers, generator transfer devices, and other accessory type items are subject to the original equipment manufacturers' terms and conditions and are subject to change; these items are not covered under this warranty unless otherwise noted in writing on company letterhead.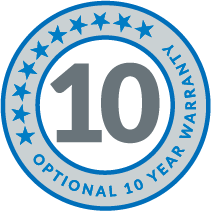 The determination of whether the Product is defective shall be made by Seller in its sole discretion with consideration given to the overall performance of the Product. A Product shall not be considered defective solely because of the failure of individual LED components to emit light if the number of inoperable components is less than 15% of the total number of LED components in the Product. If Seller determines the Product is defective, Seller will elect, at its sole discretion, to refund the purchase price of the Product, repair the Product, or replace the Product with the same or a functionally equivalent fixture(s) or component part.
This Factory Warranty applies only when the lighting fixtures are installed in applications in which ambient temperatures are within the range of operating temperatures and operating hours mutually agreed upon on the TEN (10) YEAR warranty request form.
This limited warranty will not apply to any loss or damage to the Product caused by: Exposure to water, lubricants, or chemicals that can affect the electronics or components; negligence; abuse; misuse; mishandling; improper installation, storage or maintenance; damage due to fire or acts of God; vandalism; civil disturbances; power surges; improper power supply; electrical current fluctuations; corrosive environment installations; induced vibration; harmonic oscillation or resonance associated with movement of air currents around the Product; alteration; accident; failure to follow installation, operating, maintenance or environmental instructions prescribed by Seller or applicable electrical codes; or improper service of the Product performed by someone other than Seller or an authorized electrical contractor. It is the customer's
responsibility to evaluate the environmental conditions that may affect the product and determine if the products selected are appropriate.
This limited warranty excludes field labor & service charges related to the repair or replacement of the Product without managerial approval prior to any work being performed. THIS LIMITED WARRANTY IS VOID IF THE PRODUCT IS NOT USED FOR THE PURPOSE FOR WHICH IT IS DESIGNED. Seller reserves the right to utilize new, reconditioned, refurbished, repaired, or remanufactured products or parts in the warranty repair or replacement process. Such products and parts will be comparable in function and performance to an original product or part, as determined by Seller in its sole discretion, and warranted for the remainder of the original warranty period.
To make a warranty claim, you must notify Seller in writing within thirty (30) days after your discovery of the defect, provide proof of purchase such as the invoice and comply with Seller's other warranty requirements. Upon receiving that notice, Seller may require you to promptly return the Product to Seller, or its authorized service provider, freight prepaid. Your warranty claim should be addressed to ILP, Attn: Warranty Department, 519 Codisco Way, Sanford, FL 32771. Outdoor fixtures (ie: Floodlights, Area Lights, and Wall Packs) will be requested to be returned to ILP for a detailed failure analysis.
Photos of the fixtures installed are required before an RMA will be issued. Please contact ILP for further information on these types of failures.
THE FOREGOING WARRANTY PROVISIONS ARE EXCLUSIVE AND ARE GIVEN AND ACCEPTED IN LIEU OF ANY AND ALL OTHER WARRANTIES, WHETHER EXPRESS OR IMPLIED, INCLUDING WITHOUT LIMITATION ANY WARRANTY AGAINST INFRINGEMENT AND ANY IMPLIED WARRANTIES OF MERCHANTABILITY OR FITNESS FOR A PARTICULAR PURPOSE. IN NO EVENT SHALL SELLER BE LIABLE FOR INCIDENTAL, COMPENSATORY, CONSEQUENTIAL, INDIRECT, SPECIAL OR OTHER DAMAGES. SELLER'S AGGREGATE LIABILITY WITH RESPECT TO A DEFECTIVE PRODUCT SHALL IN ANY EVENT BE LIMITED TO THE MONIES PAID TO SELLER FOR THAT DEFECTIVE PRODUCT. This warranty is effective for purchases of Product from the date of shipment from Seller facilities. Seller reserves the right to modify this warranty at any time. Any modification of this warranty shall be effective for all orders placed with Seller on or after the effective date of such revised warranty