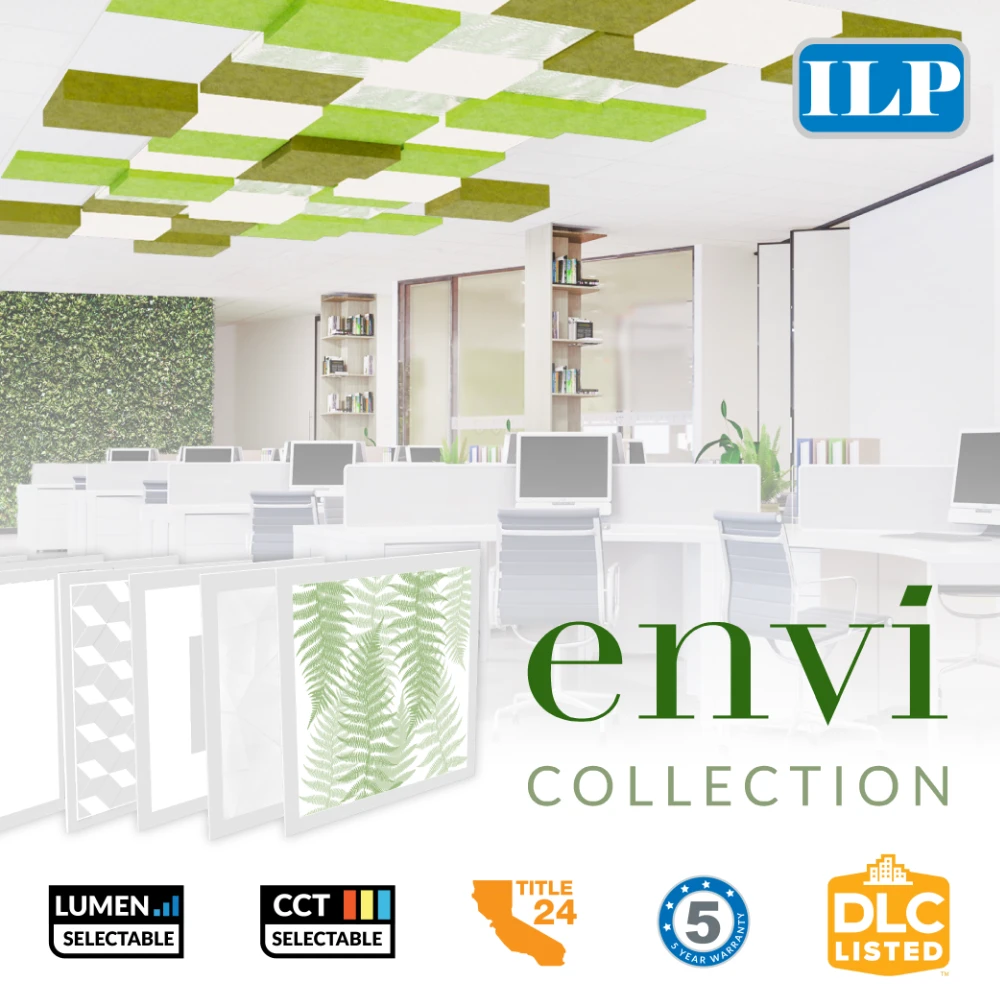 envi Collection
Envision your space with envi! Introducing our designer panel fixture with decorative lenses, acrylic drop lenses, and acoustic options. You can customize your space to fit any aesthetic with our standard lens options (ranging from geometric to biophilic patterns, and more!) acrylic drops, and acoustic drops that come in a variety of colors and lengths.
The acoustic solutions bring a captivating dimension to grid ceilings, seamlessly blending with the grid framework. By breaking free from mundane uniformity, envi enhances both the aesthetic appeal and performance of the space, providing elegant and efficient illumination. Embrace the freedom of creative lighting possibilities with envi, the envy-inducing solution that combines functionality, high performance, and striking aesthetics.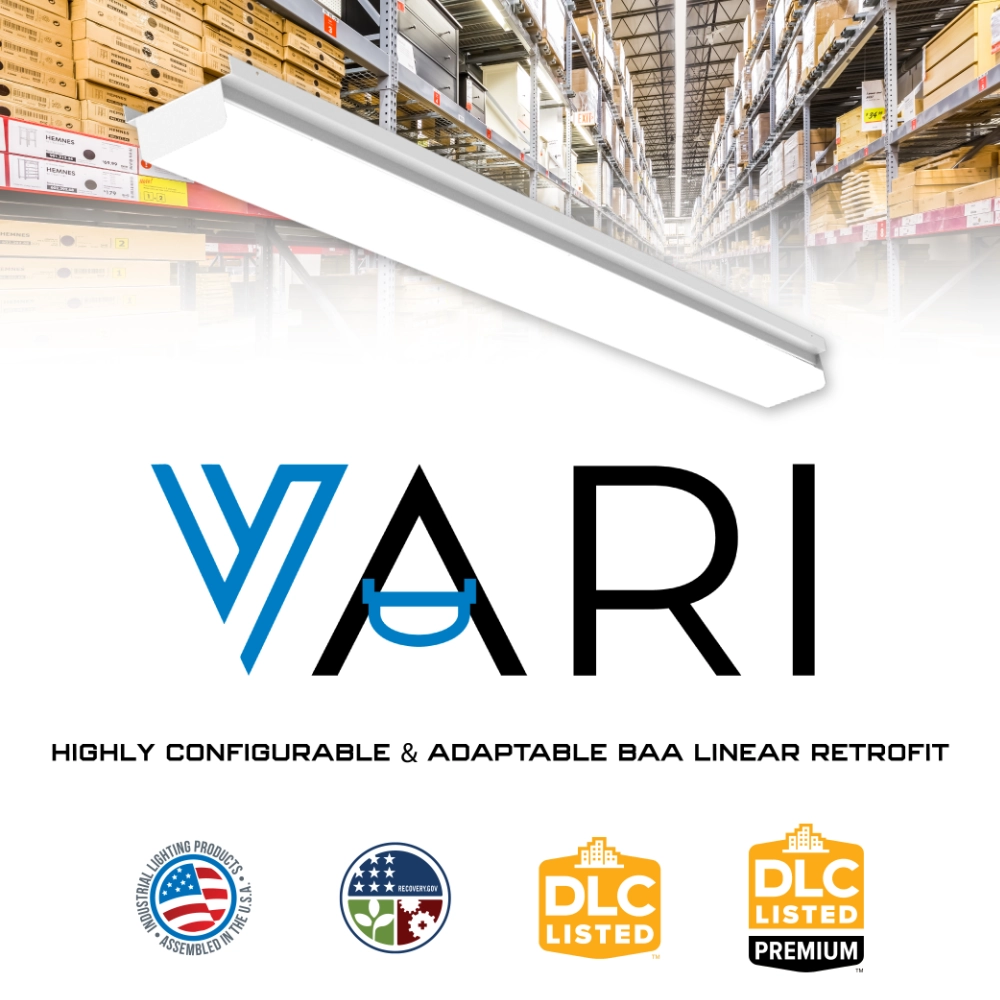 VARI Linear Retrofit
Experience the power of variety with ILP's highly configurable and adaptable Linear Retrofit, VARI. With three different mounting types and the option of a curved or flat frosted acrylic lens, you can upgrade your former lighting configuration for a more modern and energy efficient solution.
This innovative lighting solution is available in two convenient lengths of 4ft or 8ft and spans from 2,000 – 12,000 lumens. VARI also provides elevated efficiency of up to 180 lm/W so you can tailor your lighting to meet the exact specifications for your space.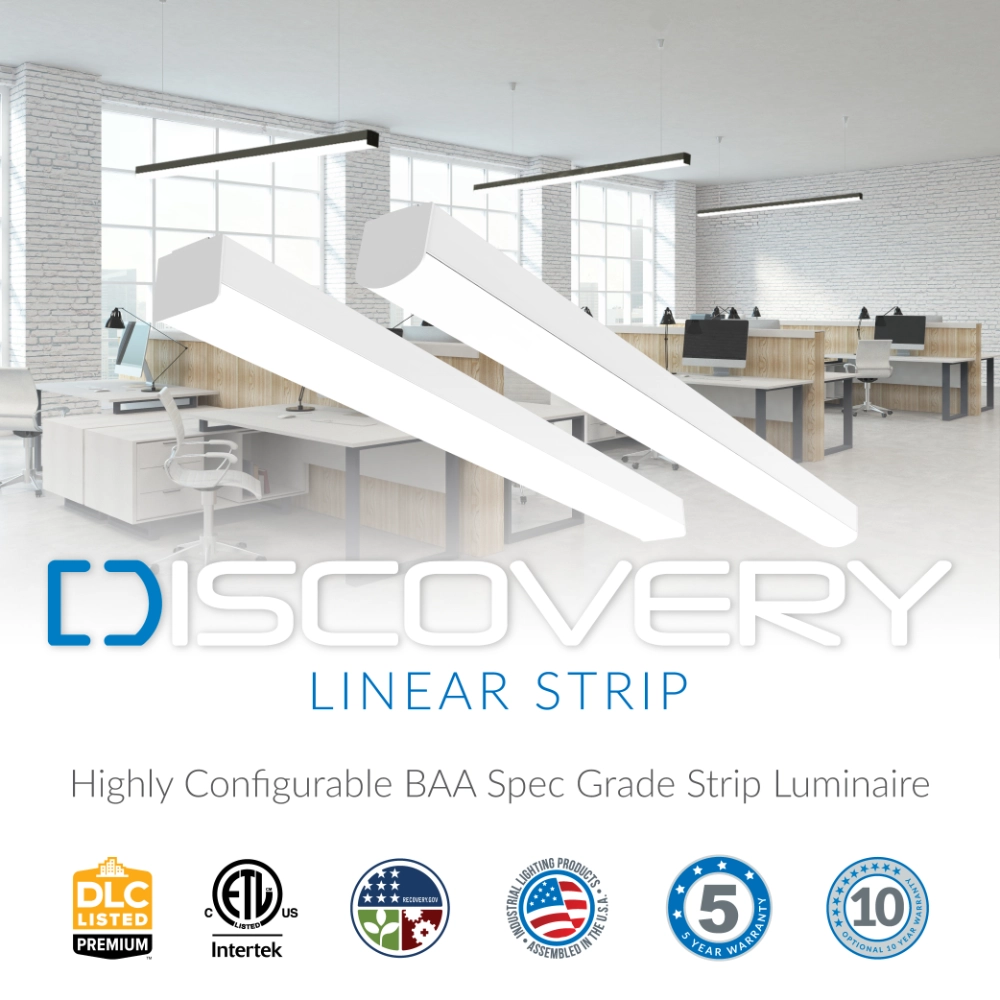 Discovery Linear Strip
Discover a simple, economical and aesthetic linear strip lighting solution with ILP's DISCOVERY. A highly configurable , BAA Spec Grade Strip, the DISCOVERY luminaire offers a sleek injection-molded end-cap design with or without end cap knockouts along with no visible fasteners and a sleek profile to enhance your space with the look of your space in mind.
The DISCOVERY also offers three housing lengths (2, 4, and 8 feet), the option of a curved or flat acrylic lens, and multiple mounting options to give you the flexibility your project needs. That's not all! A variety of compatible wireless grouping controls are also available for the DISCOVERY in order to maximize your energy savings in the way that you want all without sacrificing your aesthetic.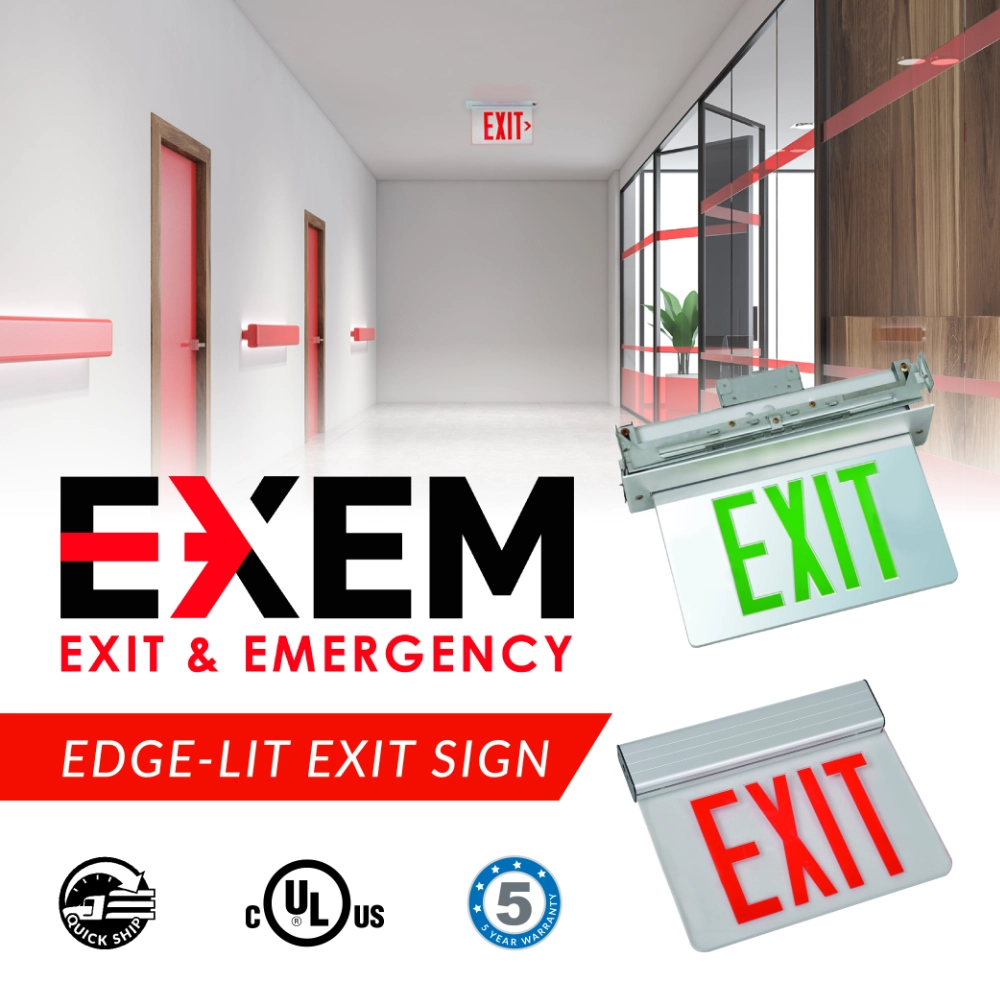 EXE Edge-Lit Exit Sign
Introducing an expansion to the Exit and Emergency offering, EXE Edge-Lit Sign. Reduce overall project freight cost by including exit and emergency products with your next order of high bays, troffers, strips or other commercial and industrial lighting products.
The key features of EXEM's EXE Edge-Lit Sign include indoor and outdoor functionality, remote emergency lighting heads that are powered by compatible exit signs, emergency lights, or combo units. The product offers options for edge-lit surface and recess mounted installations, with choices of red and green lettering for code compliance.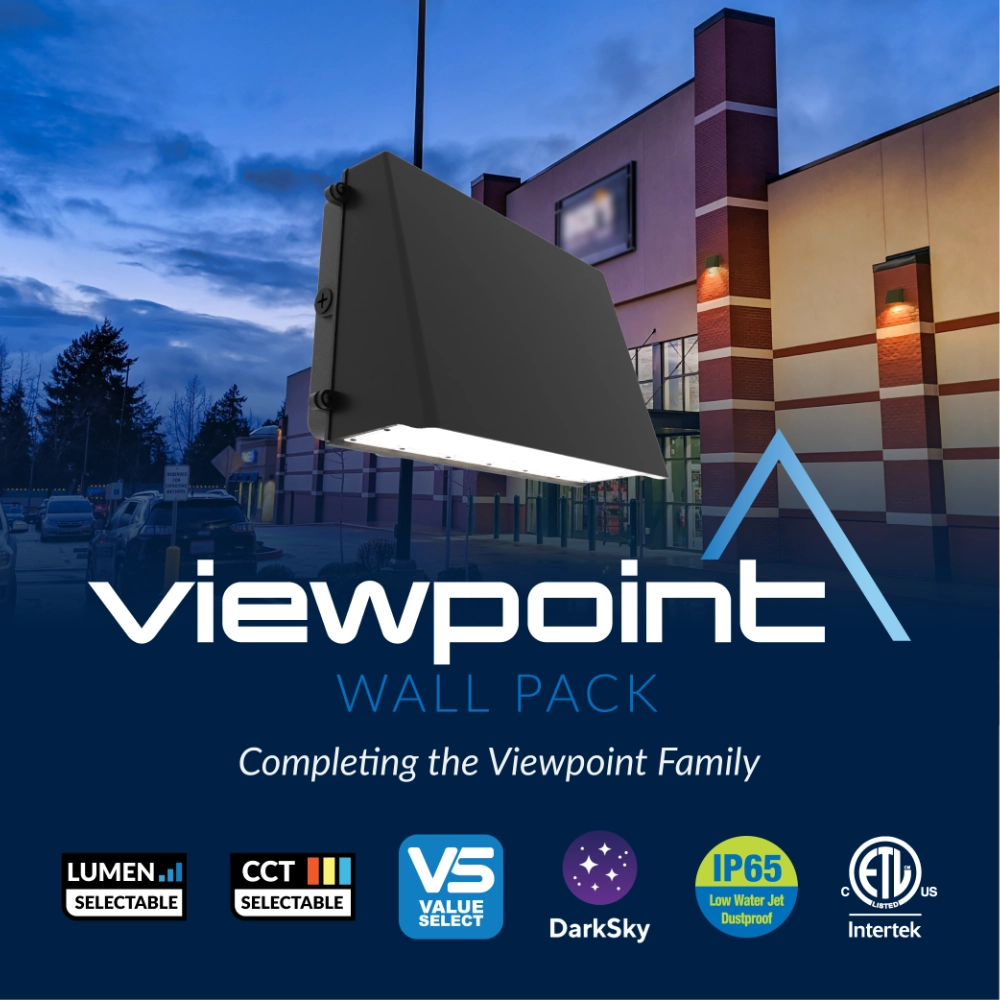 Viewpoint Wall Pack
Introducing the latest addition to the Viewpoint Family, Viewpoint Wall Pack. The Viewpoint Wall Pack offers a minimalistic and clean aesthetic. Lumen and CCT selectable, the Viewpoint Wall Pack luminaire offers a versatile, attractive and economical solution all while belonging to one cohesive product family.
Although only 6.2 inches in relief from the wall, the Viewpoint Wall Packs perform powerfully with up to 14,000 delivered lumens at up to 147 LPW. Experience enhanced illumination and energy savings when you upgrade to ILP's Viewpoint family.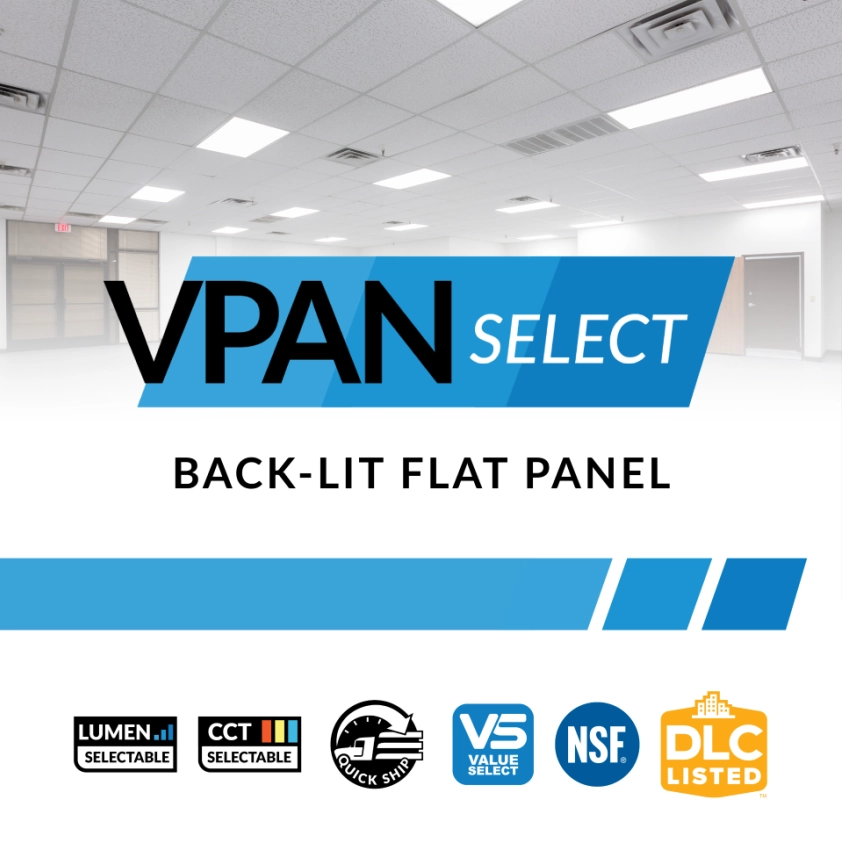 VPAN Select
VPAN Select takes the ubiquitous Flat Panel luminaire to the next level with full selectability of lumen output and color temperature. It is the perfect solution for many troffer applications and the new selectability offers simplicity and SKU reduction opportunities. Now Lumen and CCT Selectable, VPAN Select can help you save energy and money with your next indoor lighting project.
Designed with microoptics that produce smooth and uniform low-glare illumination for optimal visual comfort. Its built-in tool-less field-selectable technology offers three lumen options and three CCT options offering elite versatility when needed most. With a depth under 2″, VPAN's robust die-formed housing easily installs in shallow plenums with room to spare. Redefine versatility with VPAN Select.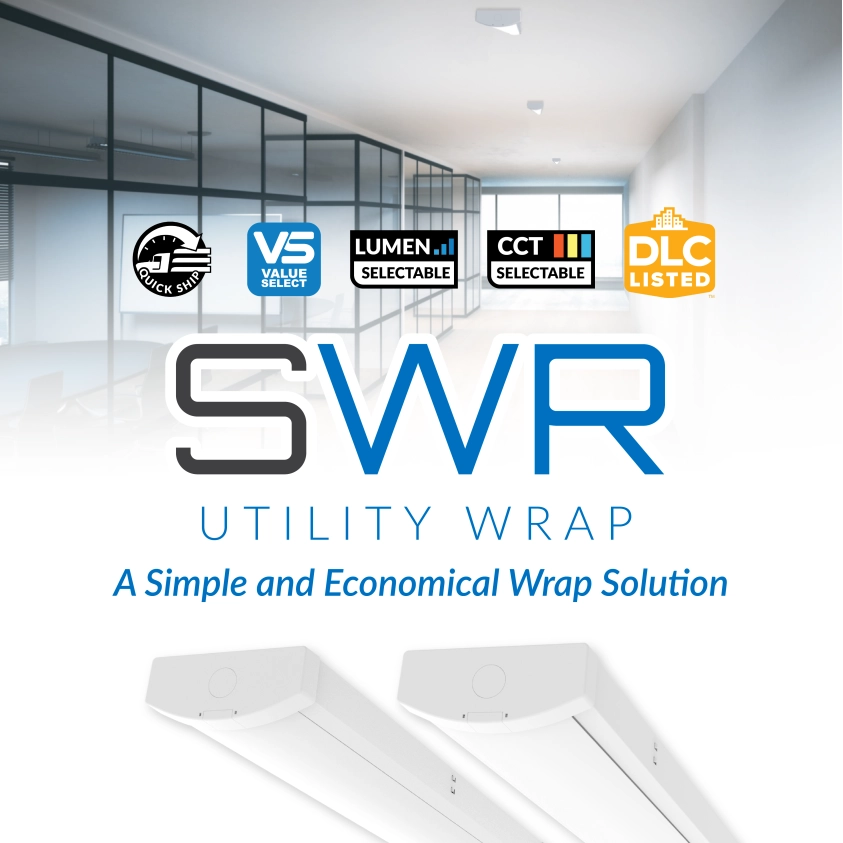 SWR Utility Wrap
SWR Utility Wrap offers a versatile and simple solution to commercial and industrial project lighting. Lumen and CCT selectable, this luminaire is the perfect linear solution for a multitude of spaces. The integrated driver, combined with the sleek body design, creates an efficient solution to illuminate your space without sacrificing aesthetics.
Offered in 2 ft and 4 ft housing lengths, the SWR offers more versatility when it comes to design and overall layout of the project. The easily accessible switches and integrated driver make CCT and Lumen Selectability a breeze. Find your simple and economical linear solution today with SWR Utility Wrap.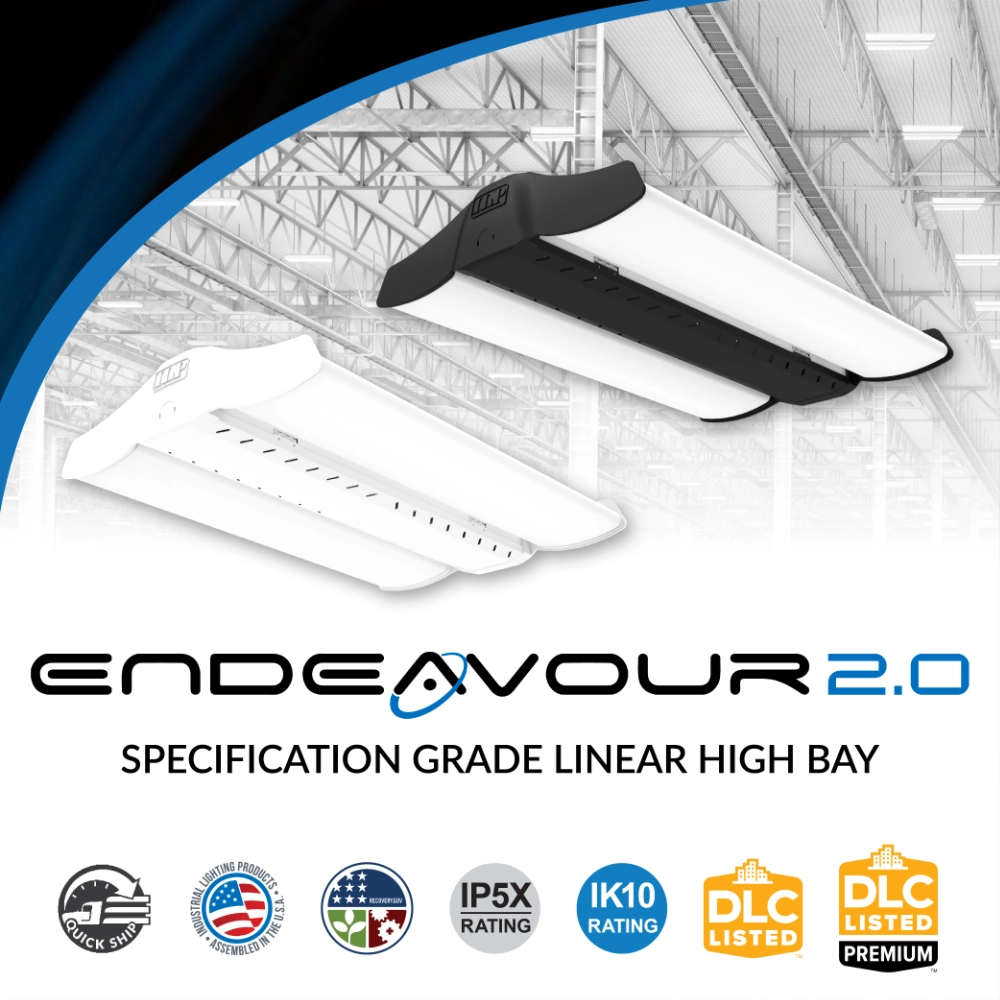 Endeavour 2.0
Endeavour 2.0 is the linear high bay of the future. A BAA product made in our Sanford, FL facility, the EDV 2.0 features an aluminum body with curved end caps in white, black or custom finishes that is sturdy – but sleek. This product is highly selectable – with impact resistant and IP5X rated lens options, controls, CCT and lumen packages, and more.
Endeavour 2.0's diverse mounting options allow for multitudes of design opportunities in a variety of applications with high ceilings at varied heights. Offering specification design and performance, making it the top choice for any unique, custom projects. Save energy, and money when you lift off with EDV 2.0.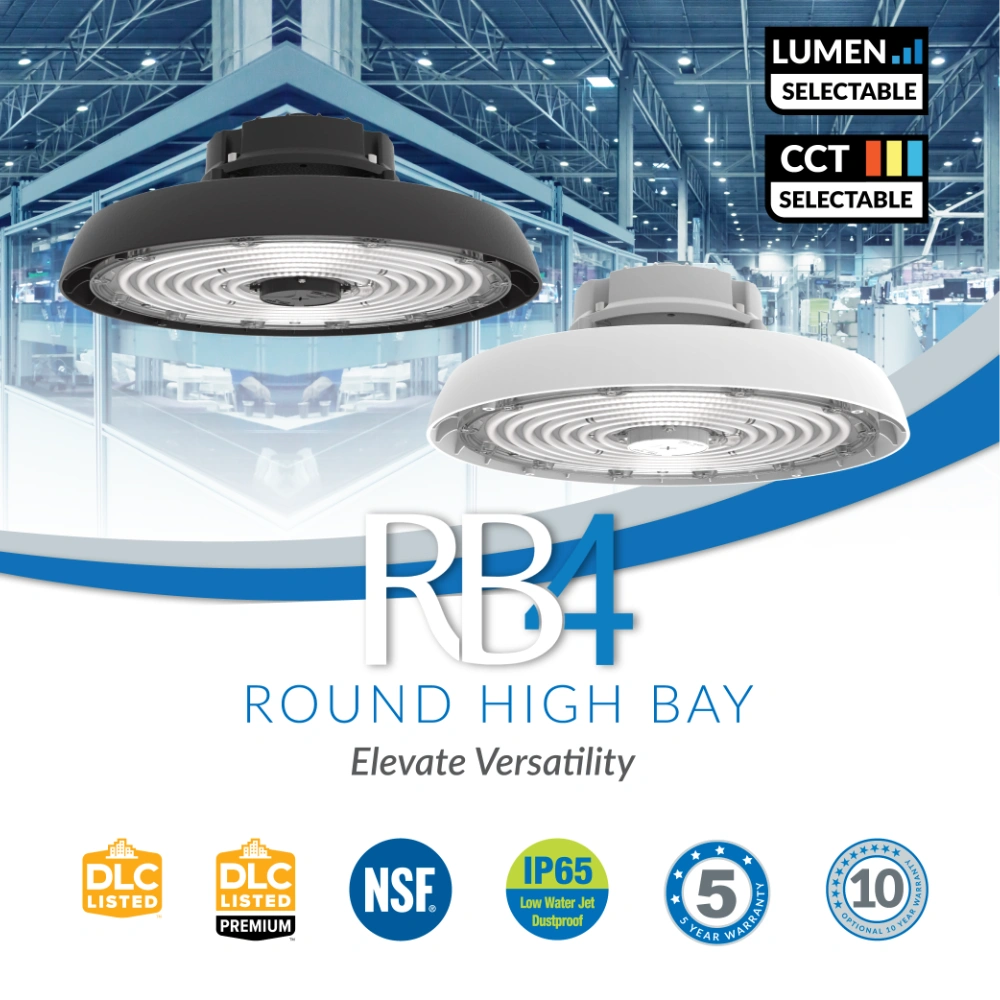 RB4 Round High Bay
With its sleek, new design and customization capabilities, the RB4 can't be beat. Lumen and CCT selectable, and available in two colors, this luminaire can be tailored to fit any of your LED lighting needs.
The upgraded and shortened diffuser minimizes cost, while updated lenses (clear standard and frosted optional) minimize glare creating an energy efficient and attractive solution to illuminate your space. RB4 boasts unique features and customization capabilities. Elevate versatility with RB4.