Autani provides the worlds most advanced wireless lighting control solution.  These sensors can be installed in ILP fixtures and throughout your facility to enhance lighting controls based on custom scenes, scheduling, daylight harvesting and more.  With dual-purpose sensors, you can capture light, occupancy, CO2, thermostat, and security data generated by the building and its occupants to deliver actionable insights. Autani sensors and controls can allow you to have a truly smart building – providing energy reporting, demand reduction, ADR compliance, Building Management System Integration (BMS), Advanced Analytics, Desk and Conference reservation systems, Real-Time location Services (RTLS), Space Utilization, and more!
UPGRADEABLE FROM BASIC LIGHTING CONTROL TO A POWERFUL SMART BUILDING PLATFORM
Autani offers three upgradeable tiers. Unlike many IoT solutions, Autani is designed to scale up without having to change hardware.
Autani Lite is a room-based lighting control solution; it is easy to install and affordable.
Autani Linked is a networked control solution which offers additional functionality such as: advanced scheduling, reporting, metering, and building management integration.
Autani Insights is our most advanced offering, providing valuable data insights into a single building or a portfolio of buildings. Here we offer asset tracking, campus-wide wayfinding, 3D facility monitoring and more.
Whichever tier of product you decide on, you will be outfitting your facility with a truly future-proofed solution complete with a powerful upgrade path available when needed.
Autani Capabilities by Tier
Measure, report, control and optimize energy use in a single building or across multiple facilities—all from a single platform. Generate energy savings automatically, year after year. Enhance the comfort and productivity of building occupants. That's the power of Autani.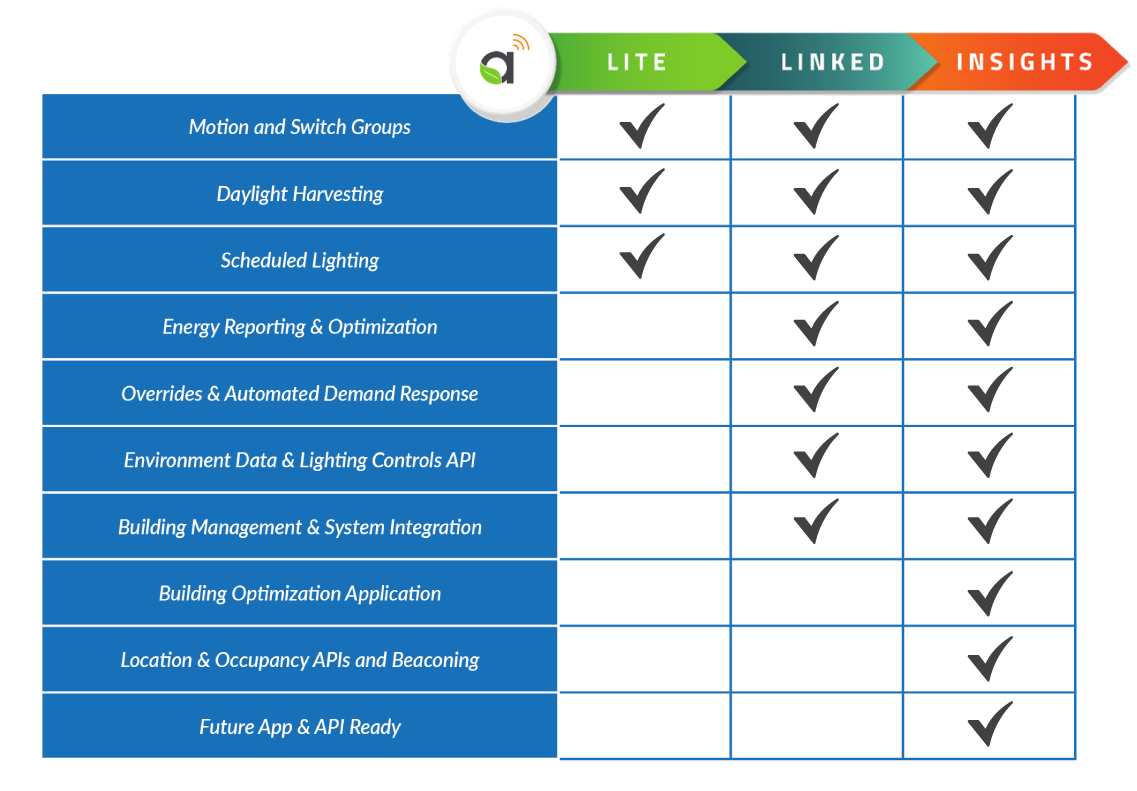 Standalone Controls
Our easiest & most affordable solution ever:

Cost effective
Easy to deploy
Easy to use
Upgraded to Network Controls when you're ready
Networking Controls
The Autani Linked platform provides many upgrades and communicates across numerous protocols.
Easy upgrades to next level facility management:

Adds additional controls
Easy upgrades from Lite
Adaptable and scalable
Easy to manage

Additional Features

Task Tuning and High-end Trimming
Low Energy Bluetooth (Sensor Dependent)
ADR (Automatic Demand Response)
DR (Demand Reduction)
Occupancy Controlled Receptacles
BMS/BAS Integration
Energy Savings Report
Non-biased data
Tunable White/Human Centric
Stability Controlled Daylight Harvesting and Groupings
Time-of-Day Dimming Schedule
Dim-and-Linger Occupancy Control
Follow-Me Lighting Effect
Smart Occupancy Reaction

Personalized Settings and Control Fixture, Sensor, Radio Outage Reports

Autani Linked communicates across a wide ecosystem of protocols.
Spacial Analytics
The Autani Insights platform provides an easy-to-use yet powerful look into building performance, health, and more.
Insights & Analysis to Improve facility management:

Key asset tracking
Campus-wide wayfinding
Room reservations
3D Facility monitoring
Multi-site analytics and insight